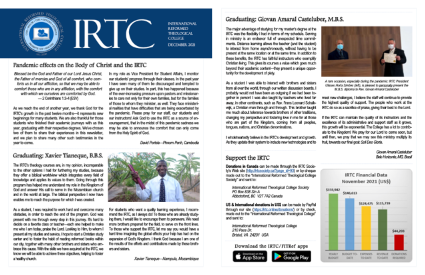 Pandemic effects on the Body of Christ and the IRTC
December 2021
"In my role as Vice President for Student Affairs, I monitor
our students' progress through their classes. In the past year I have seen many of them be discouraged and tempted to give up on their studies. In part, this has happened because of the ever-increasing pressure upon pastors and missionaries to care not only for their own families, but for the families of those to whom they minister, as well. They face ministerial realities that have difficulties that are being exacerbated by the pandemic. Please pray for our staff, our students and our instructors!"
Read more in our December Edition
---
Previous Newsletters