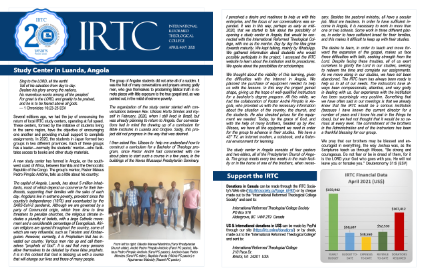 Study Center in Luanda, Angola
April-May 2021
Several editions ago, we had the joy of announcing the
return of local IRTC study centers, operating at full speed. These centers, formed by the initiative of students living in the same region, have the objective of encouraging one another and providing mutual support to complete assignments. In 2020, the students in Japan formed two groups in two different provinces. Each of these groups has a leader—normally the students' mentor—who facilitates access to books and other study materials. A new study center has formed in Angola, on the south west coast of Africa, between Namibia and the Democratic Republic of the Congo.
Read more in our April-May 2021 Edition
---
Previous Newsletters